On January 1st, 2017, a great number of teams embarked on a trying test of endurance and speed from Cape Town, South Africa to Rio de Janeiro, Brazil in the classic Cape 2 Rio Yacht Race.  One team stood apart from the rest even before the start: a unique crew of skilled sailors from disadvantaged communities throughout South Africa.  This team, who sailed under the name 'The Ullman Challenge,' departed Cape Town in a modified ILC 40.  As they cast off, they set out on their dream – to challenge the most modern and sophisticated yachts in this historic and prestigious offshore race.
As the team broke away from the start line hopes were high (click here for a video of the team rocketing off the start).  Despite one boat sinking (all crew okay) and two others retiring due to intense conditions at the start, the team pushed on and in good position.  'The Ullman Challenge' took a northerly route, quickly averaging over 200 miles a day for the first several days of the event. As the team advanced they shared optimistic reports of life at sea, anxiety about positioning reports, and enthusiasm as they closed in on competitors.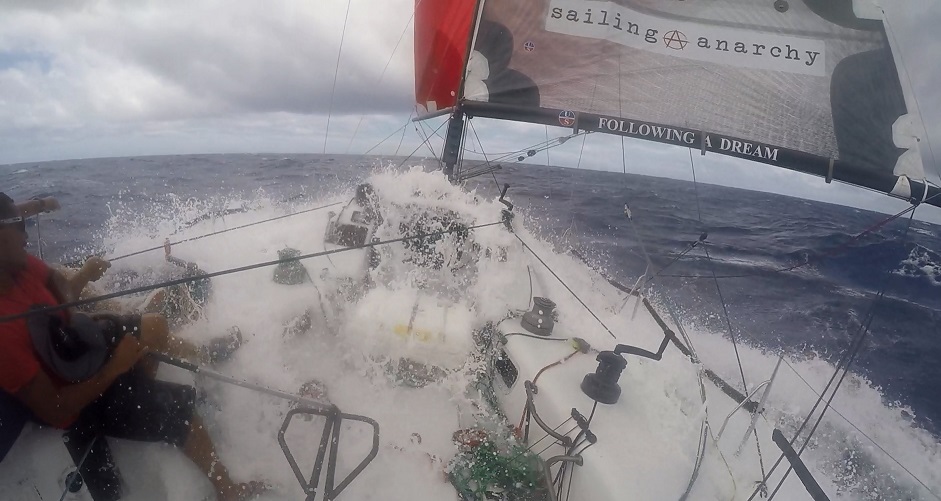 About halfway across the ocean they enjoyed one of the trip's highlights as a squall took them on. "And then it struck…seemingly in an instant the wind increased from 15 knots to 24, then 25 and 26 knots.  'The Ullman Challenge' took off like a rocket, with Theo doing a brilliant job on the helm topping out at a top boat speed of 18.8 knots.  By then the breeze was gusting to near gale force, at 32 knots.  Well in excess of the design range even for the heavier A2 spinnaker, but with a remarkable show of skillful helming Theo kept the boat charging along under full control."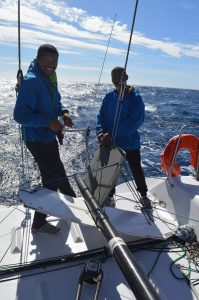 The team pressed on – advancing through the fleet to 4th place – their sights on a potential podium finish. Until they heard a loud bang less than 200 miles from Rio. "Please be advised that The Ullman Challenge lost her rudder at 18H00 Z in position 22 50.5 S 040 15.7 W (approximately 158 miles E of Rio de Janeiro).  All crew are safe and OK.  Rudder stock is intact and the vessel is NOT taking on water."
It seemed for a moment that the race would have to be abandoned and the crew would have to accept a tow into Rio.  The team chose to push on instead. "We struggled with the classic solution of using a floorboard lashed to the spinnaker pole to produce a makeshift rudder, but the solution was hopeless.  Later we experimented with using two buckets tied to long ropes behind the boat and by hoisting and carefully trimming the storm jib and tri-sail we were soon able to get going again at a speed of about 5 knots in more or less the right direction.  Zigzagging through an oil field at night with no steering is not really recommended as an adrenaline sport.  Base jumping is probably safer."
However, after all of that, and hours of being becalmed just 30 miles from Rio, the team crossed the finish line. They had endured a race of 19 days at sea, 3,500 miles, multiple Chinese gybes, a top boat speed of 18.8knots, and a rudder that broke completely off.  Regardless of their finishing position, the team did much more than complete a testing yacht race.  They proved that no matter your background or previous life experiences, you can compete at the highest level, and that despite major obstacles – even losing a rudder – nothing can prevent you from crossing the finish line.  We are tremendously proud of the crew of 'The Ullman Challenge' – their will and perseverance is an inspiration and their efforts signal a great step forward in encouraging broader participation in our sport.
Ullman Sails is a proud sponsor of 'The Ullman Challenge'.  The team competed with a full Ullman Sails inventory.  You can follow more of the team on their Facebook page by clicking here.
Article lead photo by Alec Smith – www.imagemundi.com